[box type="info"]
 Mid-2019 UPDATE – See end of article for latest changes
[/box]
Background
Over the past few years we have observed a trend of digital dashes without data logging abilities becoming a lot more popular. Back in the early 2000s, digital dashes were rarely found in anything except high-end race cars and these almost always had fairly advanced data logging capabilities. However, back then very few ECUs had decent data logging so having an integrated dash/logger made a lot more sense. Products like the renowned Motec ADL (discontinued long ago) set the bar, but the price was out of reach for most.
Fast-forward to 2017 and the situation has changed a lot. ECU based internal data logging (without needing a laptop connected) and the associated data-analysis software has become much better and is now available even on some fairly low-priced ECUs (the Link G4+ Atom is one example). We wont pretend for a second that the data logging abilities of a basic ECU like the Atom are in the same league as one of Motec's loggers. However, the logging and analysis functionality on many affordable ECUs is now more than enough for many enthusiasts and club level racers particularly if they are only interested in logging engine data as opposed to chassis data (steering, brakes, suspension, lap timing etc).
Then there is a whole group of people who aren't interested in data logging at all. There is certainly a big group of race car owners/drivers particularly at the club level who just want to drive the car and only want to know specifics if something has gone wrong. But a non-logging digital dash can certainly bring in and process a lot of data while being ready at any instant to send a clear warning to the driver in the event of a problem. The ability to do this, is what makes non-logging digital dashes so much better than a huge bunch of conventional gauges. Instead of being overloaded with information that the driver hasn't got time to watch, the digital-dash is always paying close attention and can be set up to only bother the driver when there is information that they need to know about.
Getting a lot of data from an ECU to a digital-dash has never been easier. Instead of duplicating sensors and adding a lot of extra wiring as you would when using conventional gauges, data already known by most modern ECUs can be transmitted to any decent digital-dash over CAN bus using just two wires. Yes, both devices must be set up to communicate with each other, but the wiring is certainly very minimal which saves weight, cost and complexity.
Between improved ECU logging options, smart warnings/alarms and CAN bus communications it is easy to see why non-logging digital dashes have become so popular.
Who we have included in the shootout and why
For many years we have been big fans of the Motec dash/loggers starting with the ADL/SDL/CDL models and now moving on to the C125 and C127. But when data-logging is taken out of the equation, a lot of what makes the Motec dashes shine is eliminated. Motec's older generation CDL3 (NZ$2870inc) is no longer available without logging and the C125 (NZ$3170inc without logging) doesn't get a whole lot cheaper even when data logging is taken out of the equation. It is also worth noting that the pricing above does not include any wiring looms or connectors – just the units themselves. At a lower price, the CDL3 or C125 could have won this shootout. However, with the three competing products that we chose to compare all well under NZ$2000inc with basic wiring looms and/or connectors, even Motec's entry level products are significantly more expensive which is why Motec was left out of this comparison of 'affordable' models.
We already knew the Race Technology Dash2 Pro due to to the fact that Link Engine Management has been selling it as a re-branded Link product for several years. The ability to talk to an ECU over CAN bus is a paid feature that needs to be software enabled on these dashes, but all Link-branded Dash2 Pro units have this feature enabled before they are sold. When we started selling Dash2 Pro units several years ago they were significantly cheaper than we can sell them for today. At the lower price we thought they represented good value for money for our customers looking for a display-only digital dash. There were definitely aspects of these units that we were never fond of, but once set up they did the job and they were cheap enough that we were willing to look past their shortcomings. However, as the price crept up (Link's list price reaching NZ$1949.25inc) and with the product itself having had very little improvement over many years, we eventually got to the point where we decided we needed to re-evaluate the other offerings in the market to check if the Dash2 Pro still stacked up against the competition. That is what provoked the comparison process that led to this article.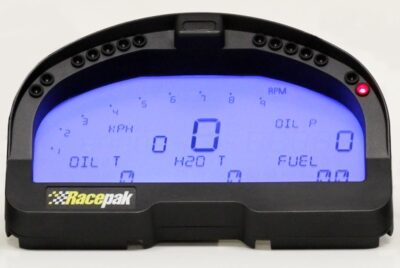 High on the list of other dashes to evaluate was the IQ3 Street from RacePak and in particular the Haltech version which comes at a cheaper price without 3 unnecessary and very low-quality sensors included but with a few minor feature enhancements like different LED colours. Just like Link selected Race Technology as their dash partner, Haltech selected RacePak and as a result it is more common to see an IQ3 paired with a Haltech ECU than a Link ECU. Keeping in mind that most of these digital dashes can work with most ECUs there is no reason why this needs to be the case though. We had previous experience many years ago with the original IQ3 Display Dash and we were left very unimpressed. At first glance their retail price of US$675 sounded like a bargain until you realised that you needed to buy their surprisingly expensive 'Universal EFI Interface Module' at US$375 to be able to connect it to an aftermarket ECU on CAN. Then it had no analog inputs so if you wanted to bring any sensors into the dash directly (for example fuel level) then you needed to buy at least one of their plug-in VNET modules starting from US$125 for a single input or you could add 4 inputs with their 'Universal Sensor Module' for US$215. So the IQ3 + Universal EFI Interface Module + Universal Sensor Module added up to US$1265 or approx NZ$2050 including GST. So it wasn't so cheap after all and you had all these untidy modules attached to the dash that could have been inside the dash in the first place. To make matters worse RacePak's configuration software which was really sub-standard. The dash looked good when it was eventually all set up and working but getting to that point with their software was a particularly unpleasant experience. However, a lot of what let the IQ3 Display Dash down has been addressed in the IQ3 Street. Essentially the Universal EFI Interface Module and Universal Sensor Module have been moved inside the dash among other things and with the price at NZ$1,382inc. for the cheaper Haltech-spec non-logging version, this looked like a viable contender. So we decided to ignore our previous poor experience and keep an open mind while re-evaluating these.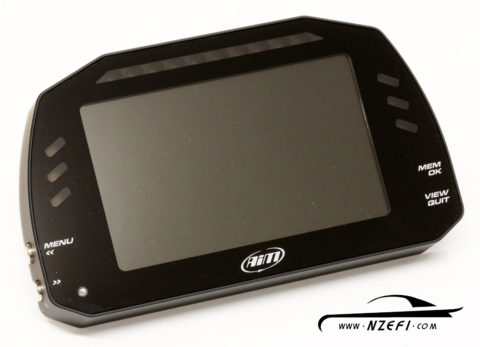 Then there is AIM who have been on the scene for a long time. We have used several of their dash products over the years on cars that either turned up with these already fitted or when one of our customers supplied one and wanted to use it. We never liked their proprietary sensor system with Binder connectors (much like RackPak and VNET), but other than that we didn't have any complaints. We have evaluated AIMs product range several times over the past 10 years, but each time we came to the conclusion that they were pretty good and well above Race Technology or Race Pak but not a lot cheaper than the equivalent offerings from Motec that we were already comfortable with. But the MXS Strada recently caught our attention – the Strada being the non-logging version within AIMs range. The MXS Strada features a 5" high-contrast colour display and a range of multi-colour programmable LEDs which at first glance reminds us of the C125 although the Strada is a lot less rectangular with a more traditional digital dash form factor. Whereas the C125 doesn't get much cheaper without logging, the MXS Strada certainly does. The logging MXS is approx NZ$3200inc and the the non-logging MXS Strada is approx NZ$1700inc – that's NZ$250 less than a Link-spec Dash2Pro or NZ$318 more than an a Haltech-spec IQ3 Street for a very slick looking colour display. The MXS Strada definitely deserved a closer look.
The plan was to evaluate all three products and then decide which one we thought was the best of the bunch and which would represent the best value for money for our customers as a display-only digital dash. If it turned out to be something other than the Dash2 Pro then we would stop stocking these and only offer them as a special order product if someone really wanted one. And the winner at the end of our evaluation would become the product that we advertised and stocked. We spent far too many days researching and testing these products so that NZEFI customers don't have to.
Feature Comparison
Racepak/Haltech

IQ3 Street

Race Technology/Link

Dash2 Pro

AIM

MXS Strada

Approximate Price in NZ$ excluding GST (April 2017)

$1201.00 as Haltech spec pre-configured for Haltech ECU

$1695.00 as Link spec pre-configured for Link ECU with 30 ECU Receive parameter upgrade

$1,478.00

Approximate Price in NZ$ including GST and shipping (April 2017)

$1,382.00

$1,949.25

$1,700.00

Display Type

Mono LCD with blue backlighting

Mono LCD with blue backlighting

Colour TFT LCD

Size (mm) W x H

185 x 104

150 x 102

169 x 97

Weight

454g

320g

480g

Water resistance

IP64 (rain proof)

IP64 (rain proof)

IP65 (water jet proof)

Enclosure

Injection-moulded Plastic

Die-cast zinc alloy

Anodised CNC-milled Aluminium

Ability to receive ECU parameters over CAN

Yes – up to 20 ECU parameters

Yes with software upgrade costing NZ$200inc per 'pack' of 15 parameters up to 105 max

Yes – up to 200 ECU parameters

Configurable Alarms with text messages

Yes – Alarms can be based on up to two parameters

Yes – Paid 'Advanced Options' Upgrade Recommended but costs an additional NZ$400inc

Yes – Alarms can be based on multiple parameters

In-built Warning/Status LEDs

4 configurable fixed-colour

6 non-configurable fixed-colour (left indicator, right indicator, lights, high beam, handbrake and alternator

6 configurable multi-colour (optional street version has icons over each option effectively fixing the associated function)

In-built Shift-light LEDs

10 fixed-colour

6-fixed bi-colour (red/green)

10 multi-colour

Configurable Pages

Yes – 4 max

Yes – 5 max

Yes – 8 max

Analog External Inputs

4 non-configurable (oil pressure, coolant temp, oil temp, fuel level)

4 configurable (paid upgrade for NZ$300inc adds another 4 analog inputs or digital outputs)

4 configurable

Digital (Frequency) External Inputs

2 non-configurable tacho (low-level only) and speed

2 non-configurable tacho (low or high) and speed

2 non-configurable

tacho (low or high) and speed

Digital (Switch) built-in Inputs

0

0

5 non-configurable (up, down, select, next page plus photo-diode for auto-dimming)

Digital (Switch) External Inputs

7 non-configurable (Button 1, Button 2, dimming, left indicator, right indicator, high beam and handbrake)

11 non-configurable (up, down, select, menu, dimming, left indicator, right indicator, fog lights, high beam, handbrake and alternator)

1 non-configurable Lap input. Analog inputs can be used as digital switch inputs. Optional Remote Button Interface (NZ$185inc) adds 6 additional inputs

Digital External Outputs

3 non-configurable (external shift-light, fan relay, external warning light)

0 standard (paid upgrade for NZ$300inc adds another 4 analog inputs or digital outputs)

1 configurable

Odometer

Yes

Yes

Yes

Connectors

AMP Superseal + USB + VNET (Very Good)

2 x Binder 423 series (Poor)

2 x AMPSeal (Very Good)

Laptop Connection Type for Configuration

USB

USB

USB

Configuration software

Datalink II V4.8.0 (Poor)

Dash 2 Pro Configuration V4.0.64 (OK)

RaceStudio 3 V3.14.00 (Very Good)
Specs don't tell the whole story
Looking at the prices for the start, the Haltech-spec version of RacePak's IQ3 Street is the cheapest of the bunch which gets it off to a head start. The MXS Strada is slightly more expensive so would need to justify it's extra cost in other areas to come out as number 1 choice. The Link-spec Dash2Pro is not off to a good start and is looking overpriced. To be fair to Race Technology you could buy a Dash2Pro with 30 CAN receive parameters upgrade directly from the UK for 800 british pounds + shipping and taxes which would come out at around NZ$1700 including GST and shipping. That is in-line with the MXS Strada's price, but in addition to having to import yourself you would need to set up the configuration which probably isn't worth the savings.
Straight away the MXS Strada goes a long way towards justifying its slightly higher cost with its colour display which makes the competitors offerings look quite dated. Furthermore, the MXS Strada has the best water proofing. Between the other two, the IQ3 Street screen is our preference over the Dash2 Pro due to its larger size.
The IQ3 Street is a little weak on the number of parameters it can bring in on CAN from an ECU, but Race Technology's method of charging per pack of 15 CAN receive parameters seems outrageous next to the AIM's 200 included as standard.
The AIM's alarm options, with multiple parameters that can trigger an alarm and multiple things that can happen in the event of an alarm, are superior. RackPak's two parameters are good enough for most situations though. Race Technology's excessive charge to get decent alarms is again completely unjustifiable.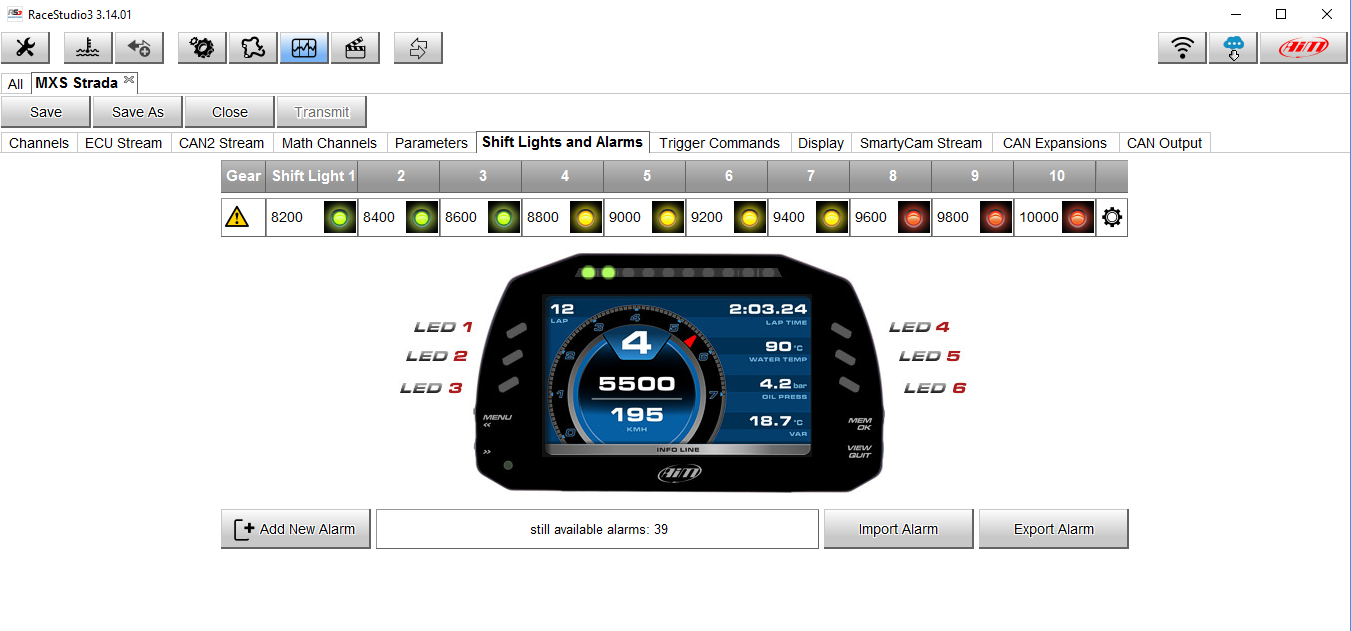 The 6 multi-colour warning/status lights on the AIM unit narrowly beats Race Technology's 6 fixed colour lights due to icons. AIM gives two options for these 6 lights – either the icon or non-icon version. On the icon version of the MXS Strada there is a single light for both left and right indicator, which some might not like, but if you don't you could always run external lights for your indicators. The IQ3 Street and MXS Strada also both miss out on an alternator light, but this could either be an external light or you could just run a hidden 2Watt 100Ohm resistor in place of an alternator light and use any of these dashes to give a low and high voltage alarm which is realistically as good or better anyway.
The multi-colour shift lights on the MXS Strada are a bit gimmicky as realistically all of these products will give you sufficient warning as you near redline. The IQ3 Street and MXS Strada have the free option of different shift-light strategies for different gears, but you need Race Technology's overpriced 'Advanced Options' upgrade to get that on the Dash2 Pro.
All units have plenty of display pages, but each has their own quirks about what you can display and where. There is no clear winner in terms of the display pages so we'll move on.
When using an ECU connected over CAN bus, the number of analog inputs on the dash isn't overly important as most parameters will be coming straight from the ECU. Fuel level from a sensor in the fuel tank is the main thing that you would use an analog input for. All three of these products can take in the signal from a fuel level sensor and allow it to be calibrated and heavily averaged so that your displayed fuel level isn't bobbing up and down like a yo-yo due to fuel sloshing around in the fuel tank.
The tacho and speedo inputs on all of these dashes are not required when bringing this data in from an ECU over CAN, so we aren't interested in them.
For digital switch inputs the Dash2 Pro finally manages to win something. Digital switch inputs are the MXS Strada's weak point. AIM is the only one that puts buttons on the side of their unit. This saves wiring if the dash is installed so that the buttons are easy to reach, but wont suit all applications. In the event that the dash is mounted out of reach or behind a panel with a cutout, you would want to purchase AIM's remote button interface. The MXS Strada could really do with more digital inputs and it is a shame that the dedicated lap input cannot currently be used as a general purpose digital-input. Fortunately, any unused analog inputs on the MXS Strada can effectively be used as digital inputs which is essential to get indicators, high beams, etc working on a road legal installation.
External outputs aren't really important to us assuming the ECU has enough, but if you were trying to get away with using a low-range ECU that didn't have enough outputs, then using outputs on the dash would be helpful for basic stuff like a fan. Using a digital dash normally frees up auxiliary outputs on the ECU anyway though as separate tacho and check engine light outputs are not required if these are sent over a CAN bus.
We like the connectors used on both the IQ3 Street and the MXS Strada, but we are not fans of the connectors on the Dash 2 Pro. If you are not using one of the wires on the Dash 2 Pro then you can forget about removing it as these connectors are just too painful to work with.

At first glance the Binder 423 series connectors might look like a high-end Autosport connector, but they are far from it. Because all the unused wires can't be easily removed, every Dash2 Pro installation we have ever seen looks like a wiring mess behind the dash.  Not cool when you're trying to complete a professional level installation.
Up to this point we felt that the Race Technology Dash 2 Pro was out of contention and no longer offered good value against the IQ3 Street or MXS Strada. Looking at the feature comparison table, the MXS Strada is superior to the IQ3 Street in most ways, but is also slightly more expensive. The extra cost seemed justifiable to us but it could have gone either way based on the final point of our comparison which is the configuration software. We consider the configuration software for a dash to be be equally as important as the dash itself – after all, any of these dashes can be completely useless if the configuration doesn't suit your requirements. The CAN configuration, sensor setup, display, alarms etc are adjustable via the configuration software. It is the equivalent to the tuning software for an aftermarket ECU.  Describing what a software application is like to use is is hard to do objectively. It is much easier to get the idea across by showing someone the software, but we decided to stop short of making a video to do this.  Instead we decided to just call it like we see it and give our subjective summary on the three software applications.  Fortunately, if you don't want to take our opinion for granted then you don't have to –  all of these software applications are available for free download from their manufacturer.  So feel free to install one or all of them to evaluate for yourself.
All of these display-only digital dashes can be connected to a laptop for configuration via USB but that is where the similarities end. AIM's Race Studio 3 is leaps and bounds ahead when comparing the configuration software of the three products. It is both the most aesthetically pleasing and intuitive to use.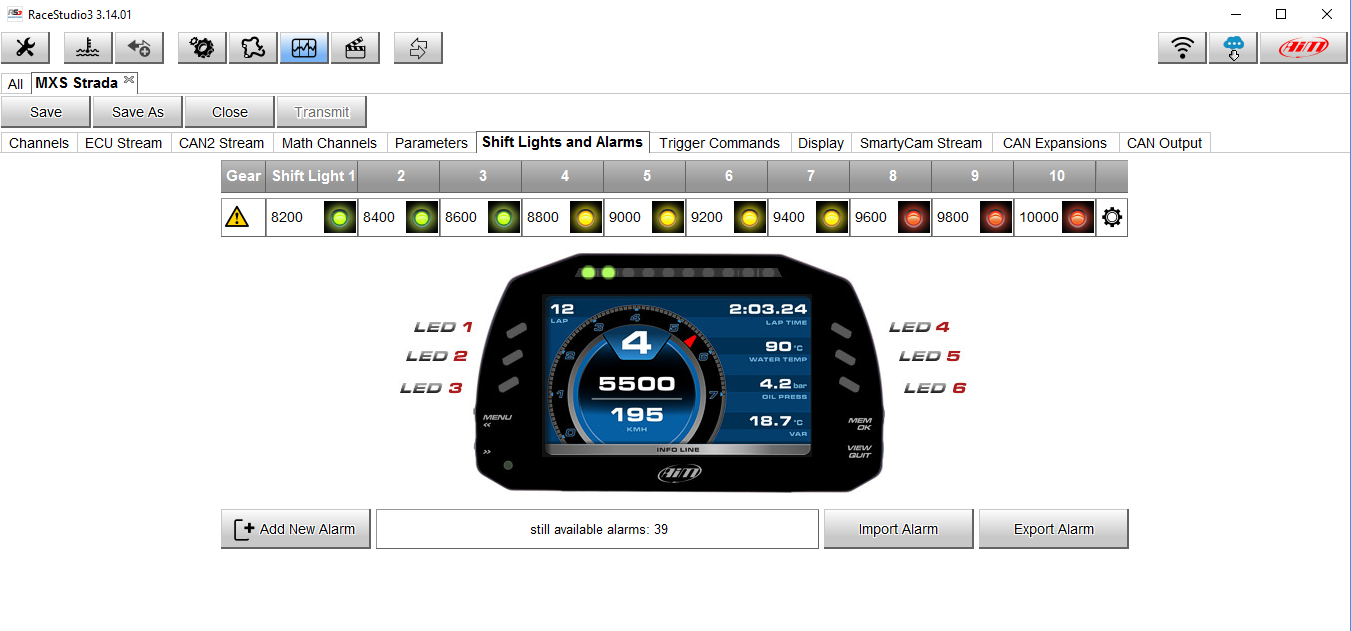 Race Technology wasn't too creative when naming their software Dash 2 Pro Configuration but to be fair it isn't too bad. It looks reasonable and stetting up most features is pretty straight forward.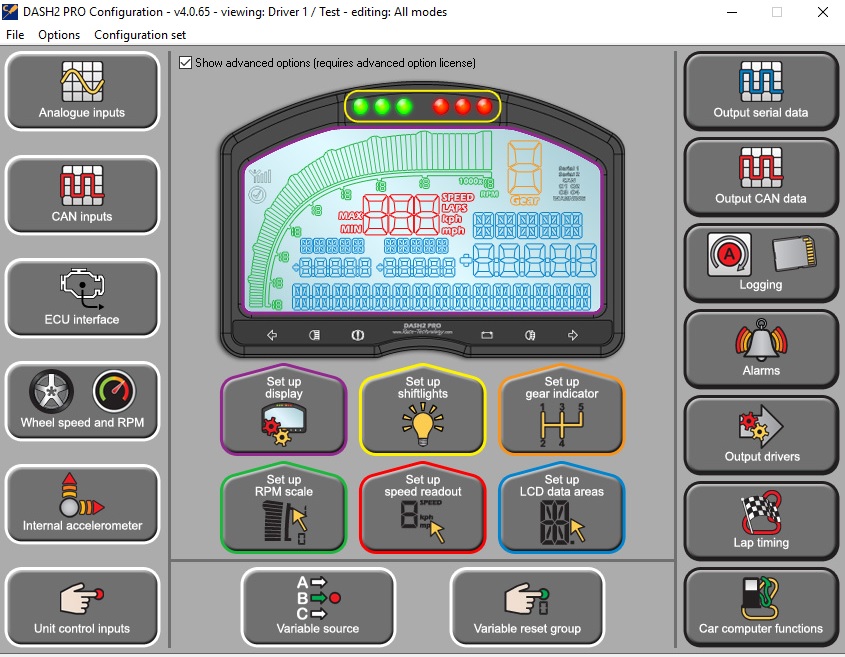 The real shocker is RacePak's Datalink II software. We had used RacePak's software in depth years ago on the original IQ3 and recalled it being outright terrible even back then. But many years later and with the IQ3 Street surely RackPak had completely upped their game, right?  Well we almost couldn't believe it at first, but the IQ3 Street's configuration software is still just as bad as ever. Our initial reaction upon installing the latest version of Datalink II was disbelief but we kept on persevering with it for a while just in-case it wasn't as bad as we first thought. But it only got worse.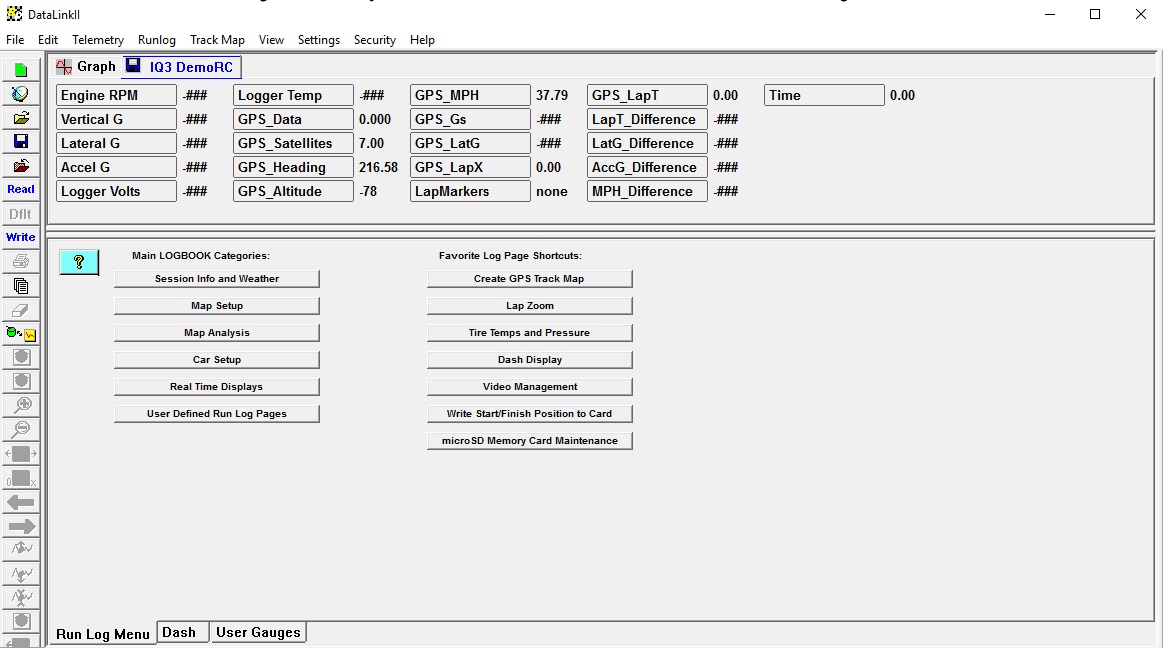 How or why other people tolerate this is beyond us. It must be an embarrassment to Haltech to have their name associated with such a disgraceful application. Even RacePak must know their software is terrible because they give you another unpleasant option which is a mode to do some of the setup without a laptop through menus on their display while trying to control the process using just two external buttons – no thanks.  I can only assume that when SEMA decided to give their 'Global Media Award' to the IQ3 Street in 2016 that either their analysis was very limited, the awards are bought/rigged or the judges simply have no idea.
Conclusion
With all of the above considered, the Race Technology Dash2 Pro no longer looks like value for money to us. Their insistence on charging crazy prices for features that aren't that spectacular coupled with their dated product made them easy to rule out. Had the IQ3 Street had acceptable configuration software then it would have been a harder choice for us to make, but they made a mockery of themselves with their software which made our final decision easy.  The MXS Strada is the clear winner, but not just because it is the most impressive looking of the lot. In addition to its appearance, it is also the most well-engineered product of the three. That is why we have chosen it as our non-logging digital-dash of choice. We are now stocking these in both the race and street-icon versions with the option of us pre-loading our own dash configuration to help get you most of the way towards your ideal dash setup. Plus you can rest assured that when you want to change something using Race Studio 3 you'll be glad you chose this product.
AIM MXS Strada Digital Dash Display – Street Icon Version
AIM MXS Strada Digital Dash Display – Race Icon Version
[box type="info"]
AIM Strada UPDATE – Mid-2019
The article above was originally written in May 2017 based on the product features that the three digital dashes had at that time. Because the AIM MXS Strada was our chosen non-logging digital dash, we have been keeping a close eye on how the AIM product range has evolved. Since the time of writing, various improvements have been made to the AIM 'Strada' range. The great news is that these changes directly addressed the few shortcomings that the original MXS Strada had. These most significant changes are:
1.) Release of the AIM MXS 1.2 Strada – Analogue inputs were increased from 4 in the original MXS to 8 in the 1.2 version. Furthermore, extra optional icons (e.g. for separate left and right indicators, alternator etc.) could be displayed along the bottom of one of the pages. A connector for direct camera input was also added to the back of the dash.
2.) Release of the AIM MXP and MXG Strada dashes – To satisfy demand from those looking for a non-logging digital dash with a larger display, the 6″ MXP and 7″ MXG strada dashes were released. These have essentially the same features as the MXS 1.2 Strada, but with larger TFT displays.
Check out the respective product pages for further information and current pricing for these AIM products
[/box] Read More »