Description
Nissan Skyline R32-R34 GTR RB26DETT 1000cc/min Direct Fit Fuel Injector Kit
This item is for a set of six brand new Bosch 1000cc/min fuel injectors to suit the following:
Nissan Skyline R32 GTR (BNR32) with RB26DETT engine
Nissan Skyline R33 GTR (BCNR33) with RB26DETT engine
Nissan Skyline R45 GTR (BNR34) with RB26DETT engine
We sell this Ev14 1000cc/min fuel injector in its unmodified form as it comes from Bosch. Each injector is tested and graded into batches prior to sale. We always sell these to our customers as a matched set. These injectors are specifically designed by Bosch to be flex fuel (ethanol) compatible and also have an exceptional spray pattern and low pulse width characteristics.
This injector is not a lower flowing Bosch EV14 series injector that has been de-capped to increase the flow rate at the expense of the spray pattern.  Such injectors which are commonly sold and used in the automotive performance industry, so please be aware that not all injectors being sold as Bosch EV14 1000cc/min injectors are the same.
Supplied with specially machined 10.5mm fuel rail adapters as part of this kit, these injectors are a drop-in replacement for all R32-34 Nissan Skyline GTR RB26DETT engines engines using the factory intake manifold and any one of the following three fuel rail configurations:
Stock Nissan 10.5mm fuel rail
Aftermarket fuel rail with 11mm injector ports
Aftermarket fuel rail with 14mm injector ports
These injectors will also be a direct fit for a twin cam RB30 built with a an RB26 head and intake.
These are a high resistance injector, so they can be used with all after market ECU's without the need to use ballast resistors. The factory RB26 GTR resistor pack must be removed and bypassed. As an option, we offer an R32-R34 RB26 GTR Injector Resistor Delete for this purpose. When purchased together with this RB injector kit, we offer the resistor delete at a special price – simply select the resistor delete option with these injectors at the top of this page.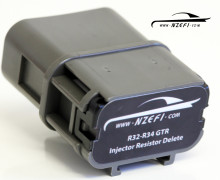 These injectors have excellent characteristics at idle and low loads, but yet flow enough to make up to up to 900HP at the flywheel.
Note that while these injectors are physically a direct fit, ECU retuning will be required