Description
Genuine Nissan Throttle Position Sensor (TPS)
Suits the following Nissan models:
Nissan 300ZX Z31 VG30E & VG30DE
Nissan 300ZX Z32 VG30DE
Nissan Laurel C32  VG30E & VG30S
Nissan Leopard F31 VG20E & VG30E
Throttle Shaft Rotation
Unlike the more common RB Skyline throttle position sensors, this TPS has a counter-clockwise rotation as indicated by the stamped arrow on the back of the sensor (see photo below). Occasionally, we receive requests for a TPS that accepts an 8mm 'D' shaft, has a 48mm bolt spacing and a counter-clockwise rotation to mount to an aftermarket throttle body.  This TPS fulfills those requirements, so can be also used for such aftermarket applications.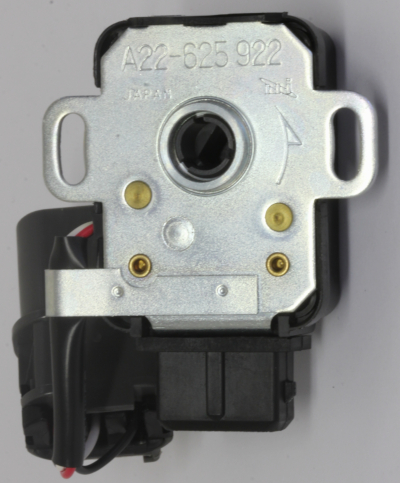 NB: Please keep in mind that an anti-clockwise rotation as viewed from the back of the sensor results in a clockwise rotation of the throttle shaft when looking at the TPS mounting face on the throttle body.
Plugs are available separately. See notes below regarding the two connectors:
These throttle position sensors have two electrical connectors. One of the connectors is the idle/wide open throttle switch and the other is variable range.
When replacing a factory sensor with a factory ECU, both of these plugs need to be connected.
If you are using an aftermarket ECU, only the variable range connector needs to be used.
Nissan Part# 22620-12G11