Product Description
47-Way Deutsch HD30 Bulkhead Connector Kit
The Deutsch HD30 series connectors are a quick-disconnect circular bulkhead connector constructed from an aluminium shell. These sealed connectors are rugged and durable, yet relatively lightweight. While the Deutsch Autosport series of connectors is regarded as the industry standard for high-performance bulkhead connectors, these HD30 series connectors provide many similar key features at a much lower price.
The 47-way connector kit is a 'hybrid' connector which accepts 5 large terminals (size #16, 13 Amp max) and 42 small terminals (size #20, 7.5 Amp max).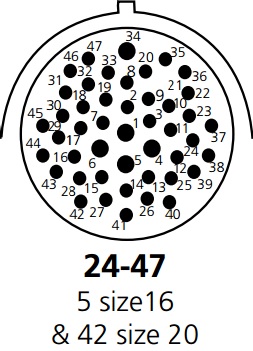 Connector kit includes:
1 x 47-cavity male connector housing
1 x 47-cavity female connector housing
5 x  large size 16 pins
5 x large size 16 sockets
42 x  small size 20 pins
42 x small size 20 sockets
1 x panel nut
Crimping of the terminals is achieved using 'barrel type' crimp tools suitable for Deutsch size 16 and 20 terminals. A set of the two required hand crimp tools is available with this connector kit as an option.